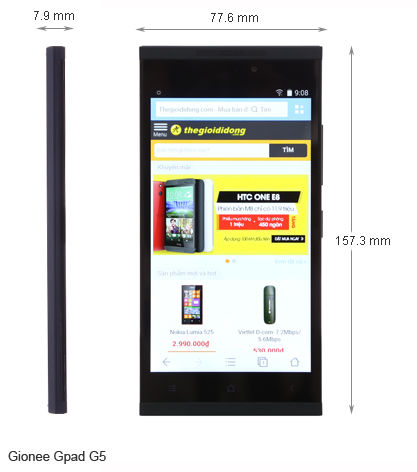 Chinese mobile phone manufacturers are spreading their magic all across the globe. Now common people's thinking about Chinese cell-phones is changing rapidly. The all credit goes to their affordable price and durability. Obviously Chinese cell-phones are now a well loved common household item. Xiaomi Mi3 has just broken all the records in terms of sell and due to much lesser supply in comparison of heavy demand it is not available online in e-stores. Every website that you check says it OUT OF STOCK. Now the company has launched its successor Xiaomi Mi4 in selected countries. Besides of Xiaomi there is one more well-trusted Chinese cell-phone manufacturer - GIONEE. Gionee is more popular in some countries where Xiaomi is still new to common people. So when it comes to launching successor of their old products, it seems like both of these companies are having a silent war. Where Xiaomi is only about cell-phones; Gionee has just launched a Phablet. We are talking about Gionee Gpad G4's successor that has just launched and officially known as - "Gionee Gpad G5."
Gionee Gpad G4's Successor -
"Gionee Gpad G5" PhabletQ2

You know a PHABLET right??? Well it's the term used for a hybrid device that's a cross breed of PHONE and TABLET. Chinese mobile manufacturer Gionee has launched

Gionee Gpad G4's Successor Phablet –officially called "Gionee Gpad G5". Introductory price of Gionee Gpad G5 is just Rs.14,999. It currently comes in only two colors that are Black and White. It is now available both online and offline. It may not be available in your local market depending on where you reside or what the choices of your neighborhood are but you can search over Google for your nearest Gionee cell-phone dealer if you want to buy it or you want to see a demo.

While the company is calling it the successor of Gionee Gpad G4 it should better be called the junior. Besides the latest Android version that is Android 4.4Kit Kat; it has no superior feature when compared to Gpad G4. Or there are some??? Wait. It has expandable memory slot that is not available in GpadG4. Well I think it will be better to have an In-Depth analysis of its features and technical specifications. Let's have a look.
Features And Technical Specifications Of Gionee Gpad G5
Gionee Gpad G5 is loaded with all the features that come now a day with all other Smartphones of its price range. It has a 5.5" HD IPS display that has a resolution of 720X1280 pixels with added AGC Dragontail glass protection. It is the same as its predecessor Gpad G4. Other highlighting features are Dual SIM support, Android 4.4 Kit Kat Operating System and 1.5 GHz hexa core Cortex A7 processor. Also it consists ARM Mali 450 MP GPU with 1 GB of RAM. It's sure super fast and will thrill it's users with great performance and speed.
Gionee Gpad G5 is also very rich in terms of camera. It comes with dual camera. The rear camera of Gpad G5 is 8 Mega Pixel and it's aided by a LED flash. It also comes with a 2 Mega Pixel front camera for Video calling over 3G networks. While few people use the front camera for video calling, it can be used to take selfies.
Gionee Gpad G5 comes with inbuilt memory of 8GB that is half of what its predecessor Gionee Gpad G4 offers. But when it comes to expandable memory, it has the upper hand over Gpad G4. While Gpad G4 has no external memory card slot, Gpad G5 offers expandable memory up to 32 GB. It means when you utilize it to it's fullest it can have a 40GB of memory. It can be said great compared to the 16GB of Gpad G4.
Gionee Gpad G5 is very light phone with the weight of only 104.6 grams. The dimensions of the phone are 157.3x77.6x7.9mm. Talking about battery power, we have a Smartphone that is powered with an average 2400mAh battery. As per the manufacturers, it will deliver - 288 hours of standby time while up to 15 hours of talk time over 2G network and 12 hours of talk time over 3G network.
It is also very rich phone in terms of connectivity. While both the SIM cards that are supported are only GSM it has some more of connectivity features that can be said common. These are GPRS/EDGE. 3G, Wi-Fi and Bluetooth. It also has FM Radio and GPS/A-GPS. As an Icing over Cake, it includes Dual crystal loud speakers with DTS.
We are providing you a quick side by side feature comparison of Gionee Gpad G5 and Gionee Gpad G4. Take a look below.
Side By Side Features Comparison Of Gionee Gpad G5 And Gionee Gpad G4
| | | |
| --- | --- | --- |
| | | |
| | 5.50-inch HD IPS display with 720x1280 pixels resolution | 5.7-inch HD IPS display with 720x1280 pixels resolution |
| | | |
| | | |
| | | |
| | | |
| | | |
| | | |
| | | |
| | | |